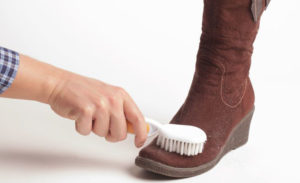 Leather is a valuable and expensive item, so it unquestionably deserves extra care and maintenance at all. You should try your best to avoid scuffs and scrapes on it on your own to maintain the original look for a long time.
At Best 1 HR Cleaners, we understand well that your suede products demand cleaning from time to time. With the view to preserving their finesse, texture, originality and color, there is a unique cleaning technique for them. Our suede cleaners have a mastery of cleaning suede leather items for years. With that said, they are able to deal with such dear and delicate items thoroughly in a professional fashion. Throughout the suede cleaning process, we make sure that the stains and dirt are thoroughly removed whilst the texture and color of the item are restored. From jackets to purses and boots, we clean, waterproof and renovate your suede items. We also do up your suede items if required.
A special item such as suede calls for unique cleaning and maintenance. You can count on Best 1 HR Cleaners completely when it involves taking care of your suede needs professionally because we have a track record in keeping customers' garments intact and encouraging them to come back time and again.
Contact us or come to our center to try out our suede cleaning services.
Call (940) 536-3003 today, in case you need more details.