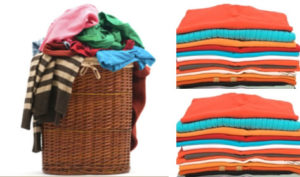 Wash and fold are typically deemed as cheap and otiose services but Best 1 HR Cleaners is here to put all those conventional beliefs to an end! We are committed to offering our customers the highest-grade wash and fold services that can wow them readily.
Do not waste your precious time by washing a heap of dirty clothes on your own but instead, you should dedicate this time to your buddies and kith & kin or riding your hobby that has been pending for a great deal of time. Also, while you give us the responsibility for getting your clothes washed, you just need to feel at ease thoroughly. We at Best 1 HR Cleaners well understand that your clothes matter to you prodigiously, which is why we deal with them with utmost care and attention! Also, while you hand us the clothes, you are also off the hook to buy the cleaning products and it is a great way to end up with heftier saving.
Our world-class Wash and fold services, on the whole, save your time, money, and the headache that often come off with these tasks at the same time. Best 1 HR Cleaners assumes the responsibility to separate, wash, dry, fold, and give back your clothes in a neat and clean order! Whether it is a wedding dress, uniform or regular attire, we can help you get the dirtiest of clothes look the best!
 Call (940) 536-3003 today, in case you need more details.